Nuance 2.0
July 7, 2004
Like Anil, I have a fairly low opinion of the SEO industry. Boris Mann rebranded it Search Engine Voodoo and gave away for his tips for "optimizing" for search engines. Long story short: validate your code, keep the code structured and semantic, and update your site frequently. Weblogs are perfect for that, and individual weblog articles often function as weblogs themselves: Mark Pilgrim is, at this writing, #1 in Google for 'favorite jokes' because his code is semantic, the URL is clean, and, importantly, he left comments open. (Unusually for Mark, they are still open after 3 weeks.)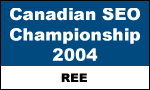 After I closed the comments on a weblog entry asking about a local popular cell phone plan, it dropped from #1 (over the company's official website for the plan) to, well, out of the top 10. The site, if you're wondering, is a static redirect, while the weblog entry has over 100 comments, and months after the original posting, still had about one comment per day. (Some even thought of the weblog entry as a forum, which, in a sense, is true. Weblog entries with comments enabled are effectively forum topics.) In that spirit, MonsterHosting.ca is sponsoring the Canadian SEO Championship, the key phrase being Xoduszero, and this weblog entry constitutes my entry. If I win the first prize, a 17" flatscreen monitor, I'll donate $25 to Creative Commons and $25 to the Vancouver Community Network, a local non-profit ISP for low-income people, so helping me out with a link to this weblog entry with Xoduszero either in the link text or the title attribute of the link will also help out CC and VCN.
Update Aug. 8, 11:55 PM: I won, and as promised, I've made the donations.
For those wondering about the username in the image above, those are my initials: my middle name is Erik.